Jan Sartain Leader in Education Honorary Scholarship
Criteria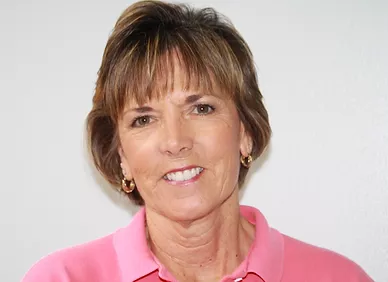 Criteria
Round Rock ISD graduating seniors pursuing a career in education or allied health who have completed a minimum of 1 year (2 semesters) of Partners in PE at the high school level, and/or have participated and been recognized as a Key Volunteer and/or Unified Sports Partner in the Round Rock ISD Special Olympics program.
About the Scholarship
Jan Sartain was the Lead Teacher for Adapted Physical Education (APE) in the Round Rock Independent School District from 1992–2017.A graduate of the University of Missouri-Columbia, Jan began her teaching and coaching career in Missouri, first as an elementary physical education teacher, then as a high school physical education teacher/varsity coach at Rock Bridge High School in Columbia, MO. Upon moving to Houston, TX., she taught physical education and coached varsity women's athletics at Alief Hastings High School, eventually becoming the Department Chair. In 1989 she accepted a position as an adapted physical education teacher in Alief and began sharing her coaching experiences with Alief Special Olympics. She was selected as the Alief ISD's Special Education Teacher of the Year in 1991.
During her 25 years in Round Rock ISD as an APE Lead Teacher, the program has evolved to become one of the top programs in Texas under her leadership. She was the visionary in the creation of the Partners in Physical Education course offered at the secondary campuses in Round Rock ISD. Additionally, she created the Centex APE Co-op, which is comprised of Central Texas APE teachers who continue to meet yearly to exchange ideas and enhance programming within the field. Her interest in athletics through Special Olympics led to dynamic growth of the Round Rock Special Olympics team. Numerous athletes from Round Rock have advanced to the Special Olympics National Games and World Games levels. Her pursuits resulted in being named the Area 13 Volunteer of the Year, the Special Olympics Texas (SOTx) Chapter Coach of the Year, and the SOTx Chapter Sports and Competition Volunteer of the Year. She was selected as the Texas Golf Coach for the 1996 Special Olympics National Games. A highlight for Jan was the creation of the annual Round Rock Rotary Track Meet, a business community partnership, which has grown to provide a quality track meet for over 350 athletes from Central Texas and uniting over 200 volunteers from the community of Round Rock over the past 20 years.
In 1996 she was voted to the Board of Directors for SOTx, serving two 6-year terms. It was during the 2nd term that she was elected as the Vice Chair, becoming the Chair of the Board in 2009-2010. She continued her volunteer service as a Coaches Trainer and a Unified Sports Trainer for the organization.
A member of the Texas Association of Health, Physical Education, Recreation and Dance (TAHPERD) since 1992, Jan served on the Foundations Committee and as a member of the Adapted Physical Activity Committee, serving as the Chair in 2014. She has been a presenter at TAHPERD numerous times and has been an attendee to Leadership Conferences since 2004. In 2016 Jan was named TAHPERD's Teacher of the Year for Adapted Physical Education for Texas.
During her tenure in RRISD, Jan created a legacy that will continue to benefit RRISD for years to come. This scholarship is a small token of appreciation from those whose lives she touched.