#TeamJana Memorial Scholarship
Criteria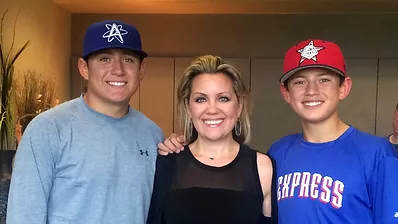 Criteria
Two (2) Scholarships awarded:
Graduating Senior who is on the Round Rock High School Dragon Baseball Team
Graduating Senior from Round Rock ISD who participates on their varsity baseball or softball team
About the Scholarship
Giving back to the community was the core of Jana Almendarez's goal in life. After working at Old Town Elementary in Round Rock ISD, Jana became very active in the local community. On June 28, 2015, she was diagnosed with Stage IV brain cancer. After her diagnosis, the Round Rock community rallied around Jana by both supporting the family and raising awareness to the cause through the #TeamJana movement. She lost her courageous battle on May 14, 2016.
Jana and her husband Chris, President of the Round Rock Express, have two sons: Chase and Luke. Chase played for the Round Rock Dragons baseball team from 2011-2014 before receiving a baseball scholarship to the University of Houston-Victoria. After graduating from UHV in 2018, Chase currently works for the Express. Luke played for the Dragons and was awarded a baseball scholarship to the University of Houston after graduation.
One of Jana's very favorite things to do in life was watch her two boys play baseball. She loved her husband, sons, and her entire family. She had an uncanny ability to make everyone feel special and is dearly missed by all who knew and loved her. She was a woman of strong Catholic faith and loved the Lord.
Jana's legacy lives on through Jana's House in the Family Legacy Mission's Tree of Life Village in the South African country of Zambia. The house, which opened on January 1, 2017, is the newest of 47 homes in the village and is named in honor of Jana as a lifelong humanitarian. Jana's House currently houses 12 boys ranging from five to 14-years-old.
To continue to honor Jana and the sport she loved so dearly, the Almendarez family would like to award two scholarships, one to a graduating Round Rock Dragon baseball player as well as a scholarship to a graduating high school baseball and softball player in Round Rock ISD.
Graduating Senior who is on the Round Rock High School Dragon Baseball Team
Graduating Senior from Round Rock ISD who participates on their varsity baseball or softball team