Be Present Project Scholarship in Memory of Tret Laine Wells
Criteria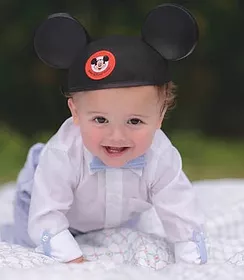 Criteria
Graduating senior who has shown a commitment to being present in their community through volunteering and making a positive impact on the lives of others.
In addition, applicant must meet one of the following criteria:
Has been diagnosed with cancer or is a cancer survivor
Has a sibling who has/was diagnosed with cancer
Has a parent who has/was diagnosed with cancer
Has a grandparent who has/was diagnosed with cancer
About the Scholarship
Tret was born on June 21, 2015. He was a happy healthy baby and brought so much love and joy to all who met him. He enjoyed watching "Mickey Mouse Clubhouse" and playing with his brothers and sister. Tret was the youngest of five children, all who were adopted. His adoption date was set for July 2017. Tret was called to his eternal home unexpectedly on January 8, 2017, at the very young age of 18 months old. He had a very rare and aggressive form of brain cancer known as ATRT, (Atypical Teratoid/Rhabdoid Tumor).
Tret's curly hair, personality, smile, and affectionate demeanor melted the hearts of many in his short time here on Earth. He could put a smile on anyone's face in a matter of seconds. Tret touched many medical professional's lives in his last 24 hours not only by his presence, but also by the shock of his passing. Tret knew nothing but love and gave nothing but love. Through the death of Tret Laine Wells, The Be Present Project was born.
The Be Present Project is a non-profit organization with plans of giving back to the community in the following ways:
Provide funding for additional research in pediatric brain and spinal cancer
Providing support to families who have a child going through cancer treatment
Recognizing elementary and middle school aged children for their presence in the classroom and communities
Funding a scholarship to an eligible senior in RRISD
This scholarship is for a graduating senior who has shown a commitment to being present in their community through volunteering and making a positive impact on the lives of others. In addition, applicant must meet one of the following criteria:
Has been diagnosed with cancer or is a cancer survivor
Has a sibling who has/was diagnosed with cancer
Has a parent who has/was diagnosed with cancer
Has a grandparent who has/was diagnosed with cancer