Ryan Cole Murphy Memorial Scholarship
Criteria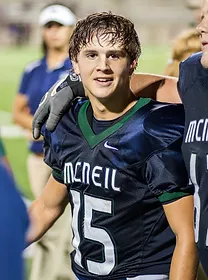 Criteria
Open to all McNeil High School senior varsity football players with at least 2 years experience.
About the Scholarship
Ryan Cole and Kylie Christine Murphy were tragically taken from this earth on their way home from Texas Tech University on Sept. 5, 2014.
This scholarship is open to all McNeil Senior Varsity Football players who plan to attend college and embodies the strong character and level of energy inspiring to others that reflected Ryan's life. The reviewers will take into consideration any applicant who is not receiving full academic or athletic scholarships. Though not required, applicants playing football and those accepted to attend Texas Tech University or Mary Hardin Baylor will be given additional consideration (points) during the blind review process.
Ryan Cole Murphy
Ryan was an amazing athlete and started competing in sports at a very young age. He even began holding a football before he could walk. While at McNeil High School in 2011, Ryan was named to the 2nd Team All District Team as a wide receiver & kick returner and then in 2012 he was named to the 1st Team All-District Team as a wide receiver & kick returner. Ryan was also a member of McNeil's track team and ran in several different races throughout his high school years. During his senior year, Ryan was on the 4×400 relay team, and they qualified for and ran in the Texas State Relays held at The University of Texas.
After high school, Ryan went to college at the University of Mary Hardin Baylor where he played slot receiver for his freshman year, and he assisted the Crusaders in getting to the Division III NCAA Semi-Finals. He transferred to Texas Tech his sophomore year as a business major and became a Sigma Nu fraternity pledge. Ryan was extremely fun-loving and was quick witted in any situation. He loved to make people laugh and was always the life of the party. Ryan loved to hunt, fish, and watch his favorite baseball team: the NY Yankees. Although Ryan was tough as nails during any sports activity, he had a very sensitive and gentle soul. Everyone always looked forward to Ryan walking in the door because he brought the room to life with his light-hearted energy and his trademark hair flip. Ryan attended Brushy Creek Elementary, Cedar Valley Middle School, and graduated from McNeil High School in 2013.
Kylie Christine Murphy
Kylie was born to dance and began taking dance lessons at an early age. She continued dancing all the way through high school. Kylie was a member of the McNeil Majestic drill team for three years and served as the Social Captain for the last two. Kylie's favorite time of year was the fall because she was an avid football fan and never missed a single game. She knew more about football than most men that were twice her age. She was the Friday Night Lights football guru and cherished cheering on her brother, Ryan. Her favorite football teams were the Texas Tech Red Raiders and the Dallas Cowboys. Kylie also loved listening to music and supporting up-and-coming bands.
Kylie was an extremely kind-hearted soul with an incredible ability to nurture others. Kylie never judged a book by its cover. She always saw the good in people, and never met a stranger. She was exceptionally compassionate to all who crossed her path and would do anything to help others in need. As a beautiful spirit, she was driven to succeed. She had just made the Dean's list and had an ultimate goal of attending law school. Kylie was her daddy's angel and her momma's best friend. A separate endowment scholarship has been established at Texas Tech University honoring Kylie.
Ryan and Kylie were part of the "Red Raider Nation" and the "McNeil Maverick Family." Although their lives were cut way too short, they touched many lives and are desperately missed by all that knew them – none more than their parents, Pat and Michelle, and their best friend and beloved big sister Natassia (Tasha).