Raymond Hartfield Memorial Scholarship
Criteria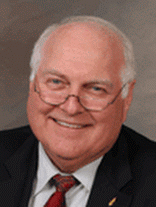 Criteria
Round Rock ISD students involved in music – including Band, Orchestra and/or Choir.
About the Scholarship
The Round Rock ISD Partners in Education Foundation is honored to support the Raymond E. Hartfield Memorial Scholarship. Raymond was a remarkable husband, father, grandfather, brother, uncle, mentor, and friend. He was a dedicated public servant who always had the best interests of the community and children at heart. He served 14 years on the Round Rock ISD Board of Trustees (6 years as President) during a time of unprecedented growth.
Raymond led efforts to bring Austin Community College (ACC) to Williamson County and was often consulted on the Educational Complex in Round Rock that now houses ACC, Texas State, and the Texas A&M Health Science Center. In honor of his hard work and dedication, the Round Rock Chamber of Commerce presented Raymond with the Citizen of the Year award in 2010. Raymond also served on many boards over the years: the St. David's Hospital board of directors, the Williamson County YMCA board, the US Distance Learning Association, the Texas Distance Learning Association and The Skillpoint Alliance.
Raymond moved to Texas in 1979 to work for Texas Instruments. He then held key positions at Cooperative Computing, VTEL, Dell, AT&T and ACC. Raymond's wit and storytelling abilities were legendary, which will truly be missed. He had a very engaging personality and all who knew him loved him. He was extremely generous with his time in support of many worthy causes and was always giving back to the community. Raymond lost his battle to cancer in June 2012.
The funds received from your contributions will be used to support scholarships for seniors who are involved in band, orchestra, or choir. All current Round Rock ISD seniors who fit this criterion are eligible for this scholarship.