Aaron Williams Honorary Special Education Scholarship
Criteria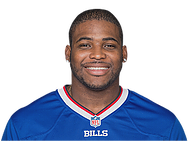 Criteria
The Aaron Williams Honorary Special Education Scholarship honors McNeil students who receive special education services, positively contribute to their campus and want to further their educational goals.
About the Scholarship
Aaron Williams was born in San Jose, CA but moved to Round Rock, TX in 2001. After graduating from McNeil HS in 2008, Aaron attended the University of Texas on a football scholarship.
In 2011 Aaron decided to leave college early to pursue a career in the NFL where he was drafted as the 34th overall pick by the Buffalo Bills. During Aaron's time at McNeil he grew to love animals, was active in Fellowship of Christian Athletes and Young Life program and enjoyed visiting and mentoring many RRISD elementary and middle school students.